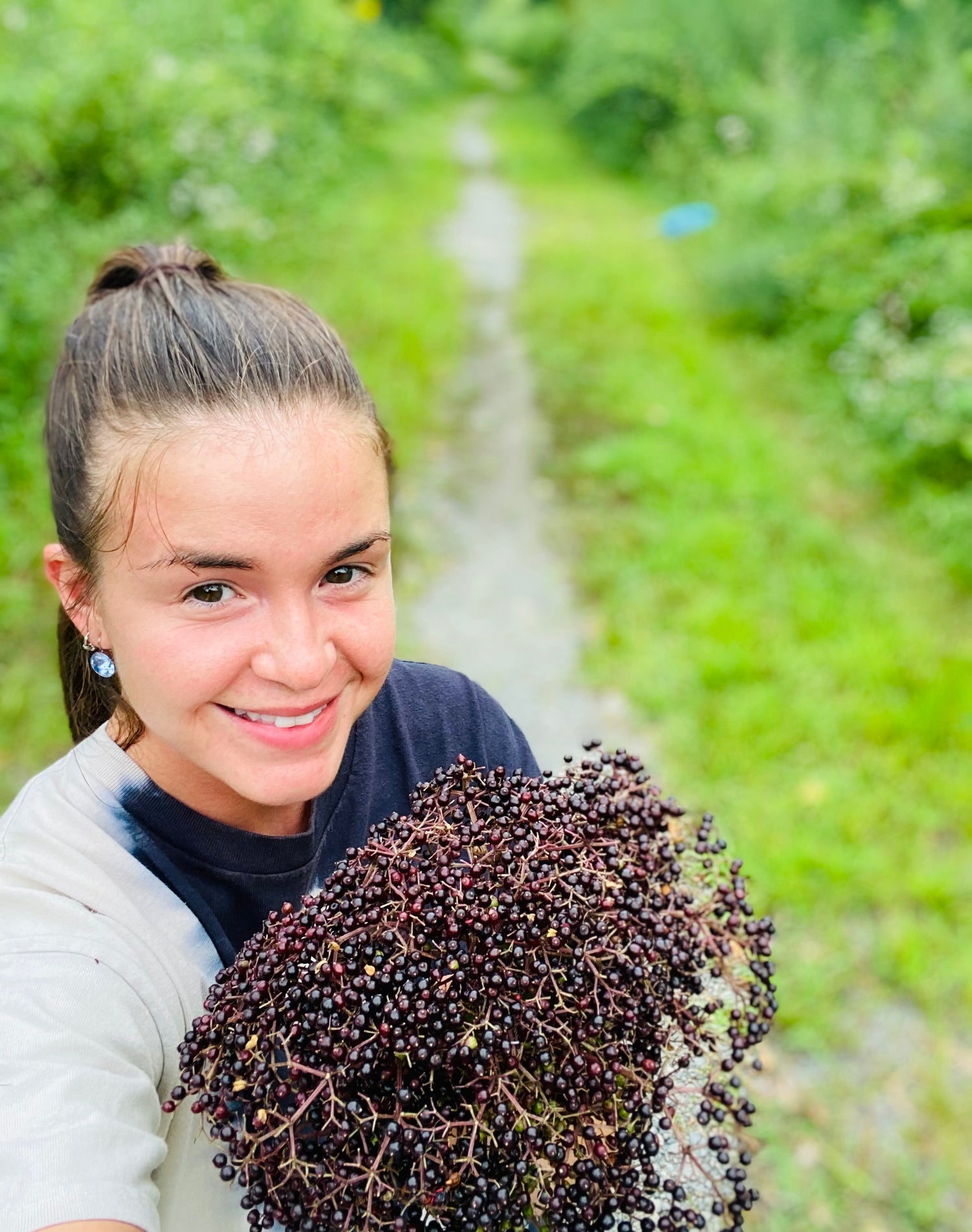 Hi There!
Thanks for stopping by.  I'm Priscilla and I am the founder and developer of Pineapple Pink bone broth elixirs and fruity bone broth ice pops.
You can read more about my bio and learn more about why I developed the Pineapple Pink line of products below.
I hope to see more of you.  Send an email anytime if you have questions.  I am always here to help.
If you would like to learn more about my background, visit my Wix Blog Site.
Chef Priscilla's Culinary Story
As a child, Priscilla grew up watching her grandparents being one with nature and maintaining their farm.  They raised chickens and bees while growing vegetables, flowers, and herbs.  Her grandfather foraged for wild food and her grandmother cooked and created wonderful meals.  This is where it truly all started for Priscilla.  Cooking and developing recipes came naturally for her as she worked for some of the best local restaurants and cafes in Northern New Jersey.  Priscilla attended the famed Culinary Institute of America located in Hyde Park, New York.  Her training led her to an internship and full-time job at one of the world's best restaurants, Blue Hill at Stone Barns.  This was a magical and brutal experience for her.  Blood, sweat, perfection, intimate, fresh all in one pot, simmering together.  This was an opportunity of a lifetime.
During Priscilla's time at Blue Hill, she met Laura, the head forager, and herbalist.  She taught Priscilla about the true healing power nature has to offer.  This is when Priscilla realized that everything we need to heal our body and mind is already directly at our fingertips.  She strongly believes all we need to do is a little research, put ourselves out there, and keep our hearts and minds open to what nature provides.  Laura inspired Priscilla to dedicate any free time she had to studying the true healing power of weeds.  Yes, weeds!  Laura was in charge of the foraging walks at Blue Hill and she eventually volunteered Priscilla to be the Chef that would come out and talk to the guests about how the chefs utilized the weeds in the kitchen.  It was an amazing experience for her and it helped her fully understand the plants not only for their flavor but also for their healing properties.
So, what does this all mean?  Food is more than just food.  Food is medicine and we can all enjoy the fruits of nature, that's why Priscilla is here to help!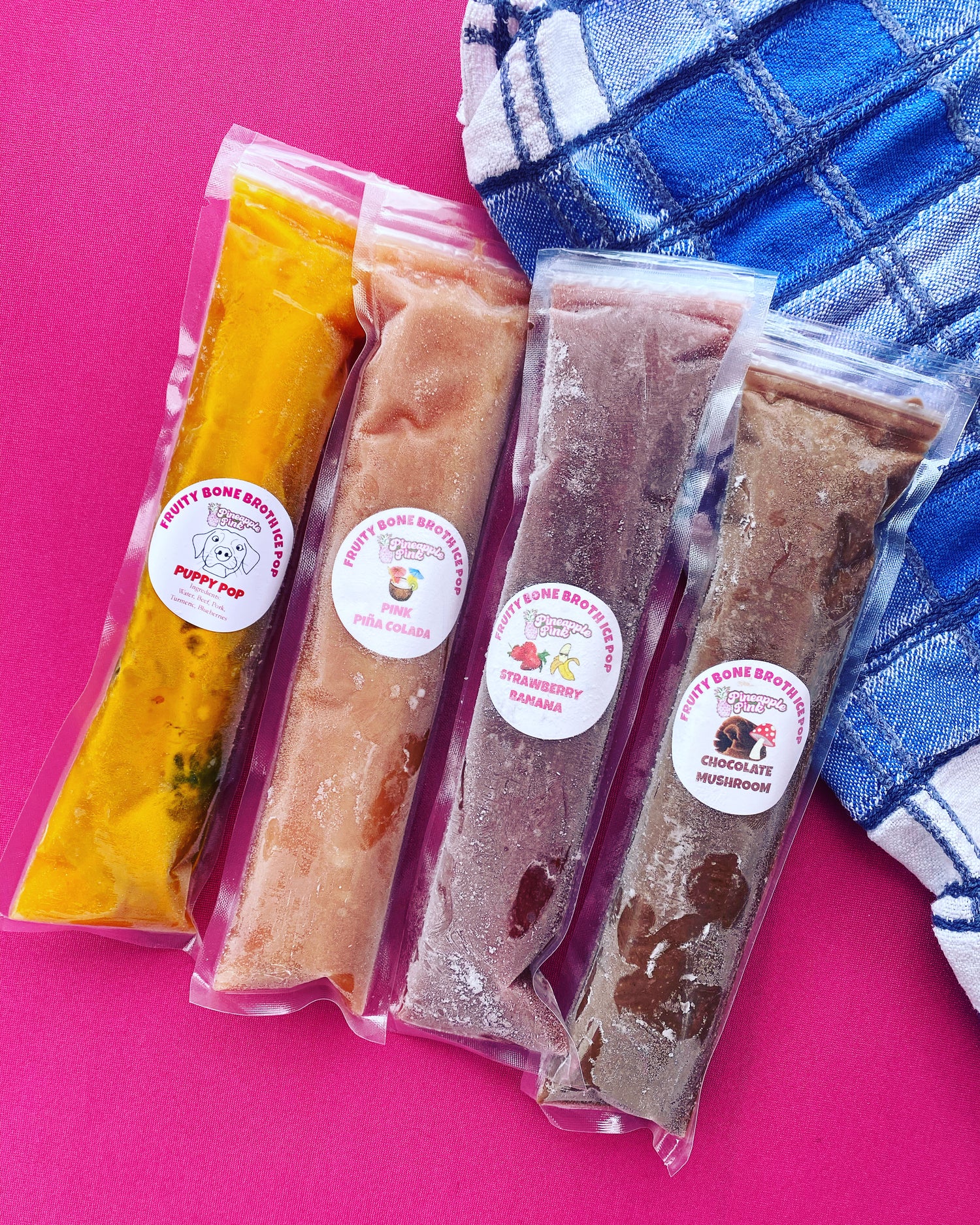 Why should you choose Pineapple Pink?
Pineapple Pink products are a unique and fun approach to investing in your health.  Each Bone Broth Elixir is infused with adaptogens and loaded with naturally occurring collagen.  Adaptogens naturally aid in increasing energy levels and help our bodies manage and adapt to stress and anxiety. Collagen will support joint and gut health, healing from the inside out - it's a double WIN!  All the bones used to make the broths are carefully sourced from local farms that stand by the use of no hormones and antibiotics.  Only the most fresh ingredients are used so your body can easily digest and absorb what nature has to offer.
Not in the mood for hot broth? Chef Priscilla has created a variety of Fruity Bone Broth Ice Pops! These ice pops are a delicious healthy treat packed with protein, vitamins, minerals, and essential amino acids. Sweetened by nature with local New Jersey honey and made with all natural, healthy, and locally sourced superfood ingredients.
Try these delicious recipes below!
Chocolate Mushroom Fruity Bone Broth Smoothie:
INGREDIENTS:

🍫 1 each - chocolate mushroom ice pop (frozen)
🍌 1 each - banana peeled
💦 1/2 cup of water
🧊 1 cup of crushed ice or cubes
🌿 1/4 cup parsley leaves (packed)

Swipe for the recipe ->

RECIPE:

- Add all your ingredients into a blender and blend till smooth and creamy!

*You can also substitute the parsley with spinach or any leafy green of choice!
SUMMER RAMEN:
INGREDIENTS:

🍵 1 Each - 12 fl oz Broth (Immunity or Boom Elixir is recommended)
🍜 1 Pack - Ramen noodles (you can either use instant ramen and toss the other ingredients OR a handful of authentic ramen noodles)**the real noodles are better 😉**
🌿 1 Cup - Fresh cleaned spinach (packed)
🍅 1/2 Cup - Fresh cherry tomatoes (halved)
🥒 1/4 Cup - Pickles of choice! OR kimchi
🍃 6 Each - Large leaves of basil (optional)

You can top with Sambal hot sauce if you like it spicy 🌶

Swipe for the recipe ->

RECIPE:

FOR NOODLES:

For instant ramen ➡️ follow instructions on package (minus the powdered broth and dried vegetables you tossed). Once the noodles are tender, strain off the water and set cooked noodles aside.

For authentic noodles ➡️ in a medium pot, add 8 cups of water and bring to a boil. Once at a boil, add 1 TBSP of sea salt and add your noodles. Cook for about 7-8 minutes. You want your noodles to be a little more firm than you would expect. Once noodles are done, strain them and run some cold water over the noodles to remove some starch and stop the cooking - set aside.

FOR THE BROTH:

1. Add your 12 fl oz elixir to a medium sized pot and place on medium heat.
2. While your elixir is heating up, prepare your cherry tomatoes by cutting them in half - set aside.
3. Gather pickles of choice, spinach, and basil.
4. Once your elixir is almost at a simmer add your tomatoes, cooked noodles, and spinach. Simmer on low heat for 1 minute.
5. Pour all ingredients into your favorite bowl and garnish with fresh basil, pickles and Sambal hot sauce if desired.

TOASTY MARSHMALLOW SPELT CRISPY TREATS:
INGREDIENTS:

- Organic Spelt Grain Berries - 1/4 Cup

- Grass-fed Beef Tallow - 2 TBSP + (1/2 TSP for greasing the wax paper.)

- Winter Blues Marshmallows - 4 each — OR

- Honey Beet Marshmallows - 4 each 

Swipe for the recipe ->

RECIPE:

HOW TO PREPARE SPELT GRAIN BERRIES:




- Place 1/4 cup of spelt grain berries into a small pot and cover with 1 1/2 cups of water.

- Bring the spelt berries and water to a boil, cover with a lid, and reduce to a slight simmer.

- Simmer for 25 - 30 minutes or till tender. I suggest to taste test for doneness.

- Once the spelt berries are tender, strain them into a fine mesh strainer and let the water drip off completely. 

- Place strained berries onto a tray, spread them out, and let them dry for 30 - 40 minutes.




TOASTED SPELT GRAIN BERRIES:




- Using a large pot, melt 2 TBSP of Beef Tallow till the fat is almost at smoke point. Note: beef tallow has a higher smoke point, so don't worry!

- Once the Beef Tallow is slightly smoking add the spelt berries and stir till each grain is coated in the fat. 

- Turn the heat down slightly and continue to stir for 6-7 minutes. Note: If you don't stir frequently they will burn.




ADDING YOUR MARSHMALLOWS:




- Once the berries are done toasting, turn the heat off completely and add 4 Winter Blues Marshmallows OR 4 Honey Beet Marshmallows and stir, stir, stir! 

- Stir till all the marshmallow has fully melted - set aside. 

- Grease some wax paper with the remaining 1/2 TSP of Beef Tallow.

- Scoop the grain and marshmallow mixture onto the greased wax paper and form your bars! 

- Keep it simple and make 2 large bars or get creative and make fun shapes like stars, hearts, and circles! ️
Pineapple Pink is dedicated to supporting local farms as often as possible. We support local by sourcing our antibiotic and hormone free chicken, grass-fed beef bones, and local raw honey from:
Check out our best sellers: