Fruity Bone Broth Ice Pops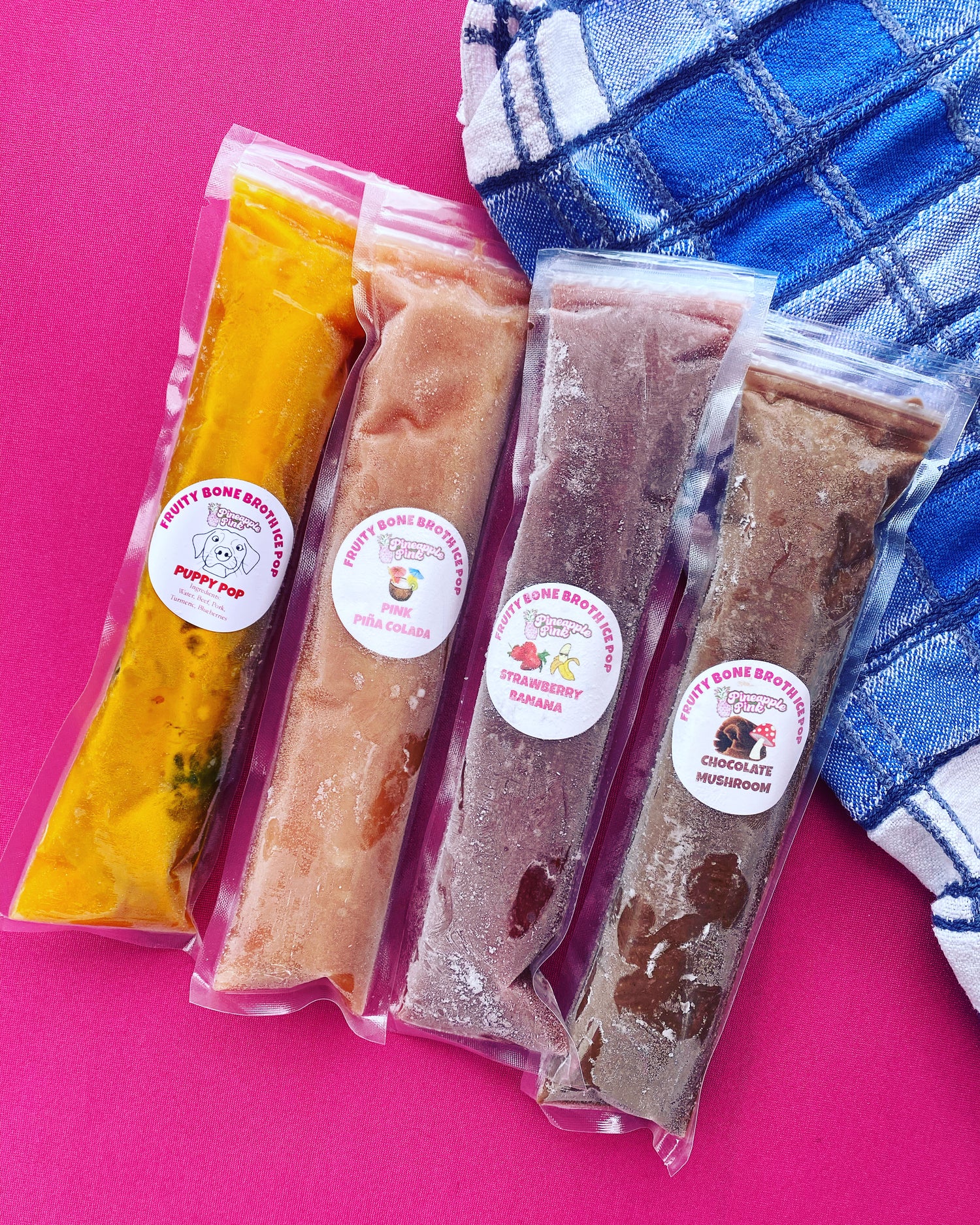 Why should you choose Pineapple Pink?
Pineapple Pink products are a unique and fun approach to investing in your health.  Each Bone Broth Elixir is infused with adaptogens and loaded with naturally occurring collagen.  Adaptogens naturally aid in increasing energy levels and help our bodies manage and adapt to stress and anxiety. Collagen will support joint and gut health, healing from the inside out - it's a double WIN!  All the bones used to make the broths are carefully sourced from local farms that stand by the use of no hormones and antibiotics.  Only the most fresh ingredients are used so your body can easily digest and absorb what nature has to offer.
Not in the mood for hot broth? Chef Priscilla has created a variety of Fruity Bone Broth Ice Pops! These ice pops are a delicious healthy treat packed with protein, vitamins, minerals, and essential amino acids. Sweetened by nature with local New Jersey honey and made with all natural, healthy, and locally sourced superfood ingredients.
Try these delicious recipes below!
Chocolate Mushroom Fruity Bone Broth Smoothie:
INGREDIENTS :

🍫 1 each - chocolate mushroom ice pop (frozen)
🍌 1 each - banana peeled
💦 1/2 cup of water
🧊 1 cup of crushed ice or cubes
🌿 1/4 cup parsley leaves (packed)

.

.

.

.

HOW TO:

Add all your ingredients into a blender and blend till smooth and creamy!

*You can also substitute the parsley with spinach or any leafy green of choice!
SUMMER RAMEN:
🍵 1 Each - 12 fl oz Broth (Immunity or Boom Elixir is recommended)
🍜 1 Pack - Ramen noodles (you can either use instant ramen and toss the other ingredients OR a handful of authentic ramen noodles)**the real noodles are better 😉**
🌿 1 Cup - Fresh cleaned spinach (packed)
🍅 1/2 Cup - Fresh cherry tomatoes (halved)
🥒 1/4 Cup - Pickles of choice! OR kimchi
🍃 6 Each - Large leaves of basil (optional)

You can top with Sambal hot sauce if you like it spicy 🌶

FOR NOODLES:

For instant ramen ➡️ follow instructions on package (minus the powdered broth and dried vegetables you tossed). Once the noodles are tender, strain off the water and set cooked noodles aside.

For authentic noodles ➡️ in a medium pot, add 8 cups of water and bring to a boil. Once at a boil, add 1 TBSP of sea salt and add your noodles. Cook for about 7-8 minutes. You want your noodles to be a little more firm than you would expect. Once noodles are done, strain them and run some cold water over the noodles to remove some starch and stop the cooking - set aside.

FOR THE BROTH:

1. Add your 12 fl oz elixir to a medium sized pot and place on medium heat.
2. While your elixir is heating up, prepare your cherry tomatoes by cutting them in half - set aside.
3. Gather pickles of choice, spinach, and basil.
4. Once your elixir is almost at a simmer add your tomatoes, cooked noodles, and spinach. Simmer on low heat for 1 minute.
5. Pour all ingredients into your favorite bowl and garnish with fresh basil, pickles and Sambal hot sauce if desired.

Pineapple Pink is dedicated to supporting local farms as often as possible. We support local by sourcing our antibiotic and hormone free chicken, grass-fed beef bones, and local raw honey from:
Check out our best sellers: